Home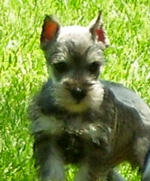 Welcome to A Abracadabra Pet Center, your source for high-quality registered puppies and pet care services. Over the years we have grouped together a co-op of professional breeders with a high level of integrity and the knowledge to produce quality, healthy puppies. If you're in the market for a top-quality small breed, chances are that we have the puppy for you.
For over 30 years, we have also been in the business of showing, training and grooming pets. In our grooming salon, we take pride in providing the gentle care and special attention your pet deserves. In addition to these services, we have a full-line pet store complete with pet goods and accessories.
Hours:
Monday, Tuesday, Thursday, Friday: 8am - 5:30pm
Wednesday: 9am - 5:30pm (no grooming)
Saturday: 8am - 5pm

Appointments can be booked up to one year in advance.
We are members of the National Dog Groomers Association.